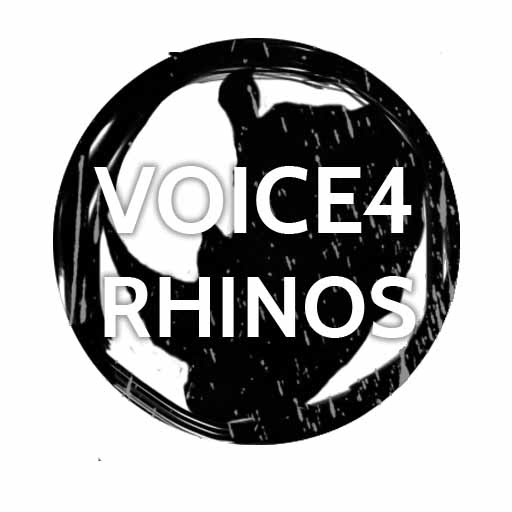 This project is a Campaign to raise awareness of Rhino Poaching. This project is based on giving rhinos a 'voice' to stop Rhino poaching around the globe. My intentions are to use social media such as Twitter and other methods to broaden this campaign to a worldwide scale. Partnered with this project I have created a full scale rhino to enhance this movement to end rhino poaching.  
This project idea initially developed when visiting South Africa in 2013. A park ranger at the Kruger National Great Park gave me the distinguishing facts and insights to the increase of Rhino Poaching across South Africa. Rhino poaching is not just a small congregation of people, it is widespread across other continents; these facts gave me the indication to bring the awareness of Rhino Poaching which is currently misread and misunderstood by many, as its not personally affecting them. Returning home, I decided to research into Rhino Poaching and found that Rhino existence is in a drastic decline; borderline extinct, by illegal human poaching. Research showed, there has been a staggering increase in poaching by 2000% since 2010. Throughout my research I have become much more culturally aware of the complications that poaching is causing. However; it is still an increasing issue that is only worsening over time. Society will only acknowledge the full extent of the issue when it becomes too late; with this, sadly the Rhino could become non-existent within the next 10 years.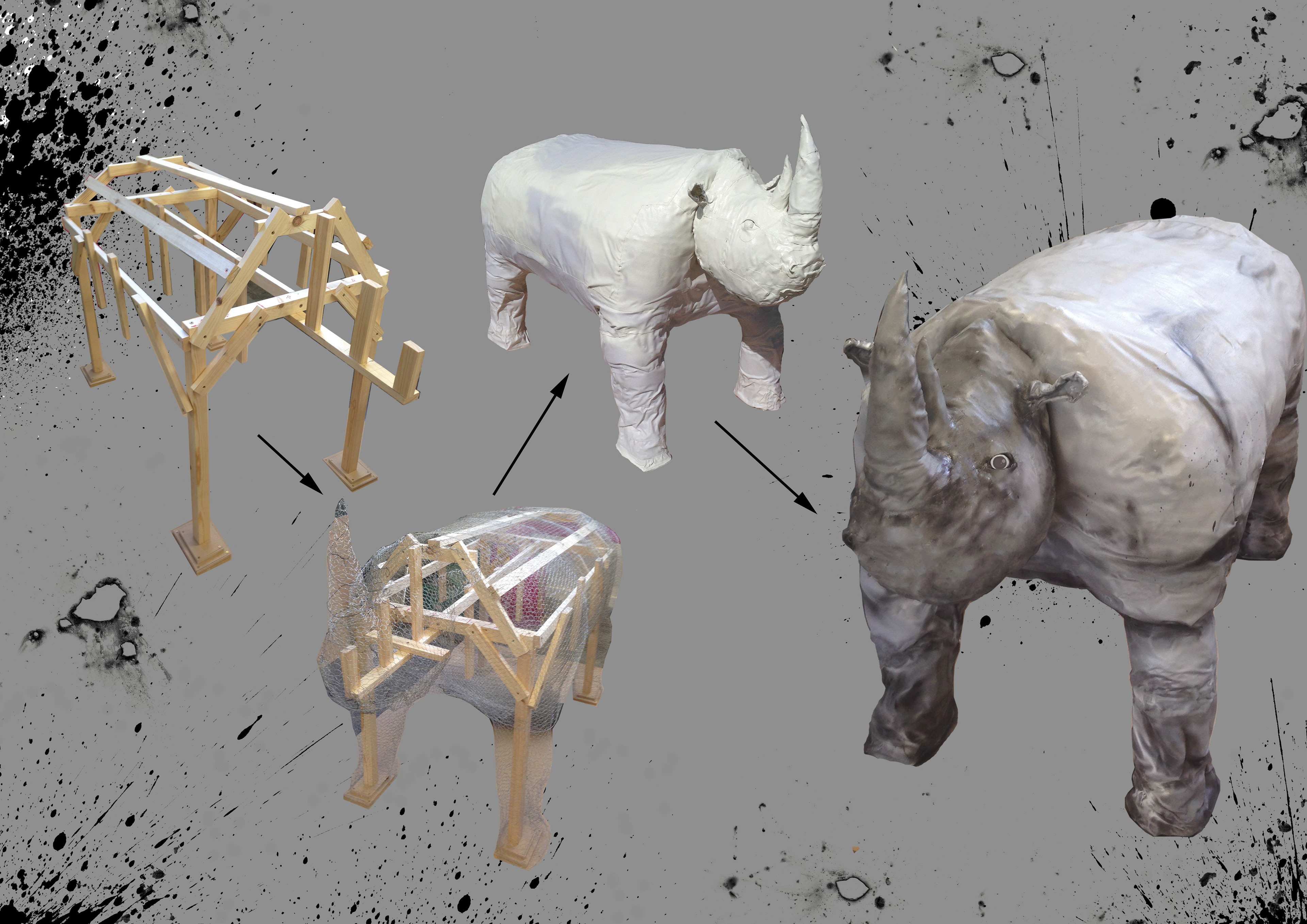 After building the Rhino believing this was the best possible solution in creating awareness. I Then needed to add more substance by making the Rhino have interactive capabilities with the use of Arduino. Which I have leaned is very difficult in making because it's very temperamental and doesn't work as well as I planned due to coding. But with further research Ive found a better solution. Its called a touch board its an easy to use platform. It can Connect to anything conductive to one of its 12 electrodes and trigger a sound via its onboard MP3 player, play a MIDI note. But unfortunately I found this out at a later date and didn't have enough time to fix this problem. But when it comes to the final degree show it will hopefully be fully functional. I've also learned that its difficult to build a model Rhino, Going back and forth with the build was time consuming because the materials didn't always go to plan so I would have to redo the building with another material. But this was a fun process and gained a lot of acknowledgment from various people seeing the Rhino and then being intrigued into why I was building a model Rhino. It then sparked conversation about the poaching in SA. This was perfect because its given me greater confidence that the audience will interact with the Rhino and want to get involved.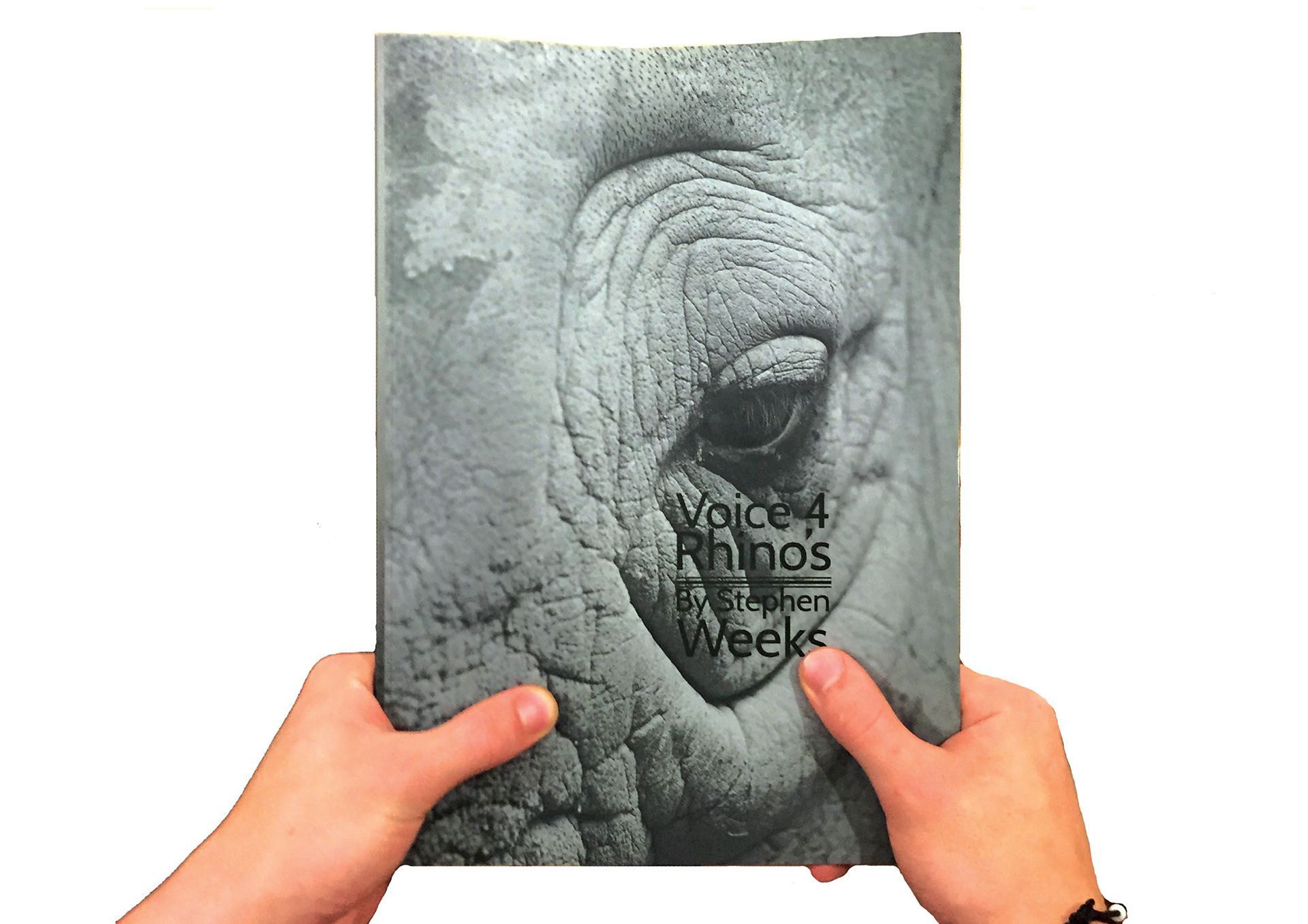 In conjunction in creating all of the above I've made an information book that will further explain the facts and figures on whats happening in South Africa to go with the Rhino. Its also got a few pages of how I built the Rhino.  The theme of the book is destructive with paint splatters to increase the depth and burns to represent the destructive nature of Rhino poaching. All of the background and page lay outs of my book where planned to harmonies the theme with the graphics.  Also I wanted to keep this theme throughout the project. Including the Twitter account for the live tweet system. My intention was to  have a balance for everything to come together as a whole. I used Indesign to create the information booklet and used my photoshop skills to create the imagery and backgrounds for the booklet. I used a simple font called Cabin for the book so its easy and simple to read to get the facts straight to the reader. There was a few mistakes when it came to the printing process because a couple of the image's became pixelated. But overall I'm happy with how the book came out. The best aspect of the book is the front cover with the close up of the Rhino's eye and with the type underneath to make it resemble a tear. Overall I'm happy with how the project turned out Ive learned a lot doing this project, using Auduino even if it didn't go to plan. Building a giant Rhino sculpture which hasn't been done before. Its a subject Im passionate about which made it a lot easier and enjoyable to do. I wanted to make a change and hopefully I will create enough awareness for Rhinos for the audience care enough to want to make a change to whats happening to them. In the future I would enjoy working on projects that will make a difference within society and create a big impact into people thinking. Also convince them to want to make a difference. 'Just because its not happening here, Doesn't mean its not happening elsewhere'.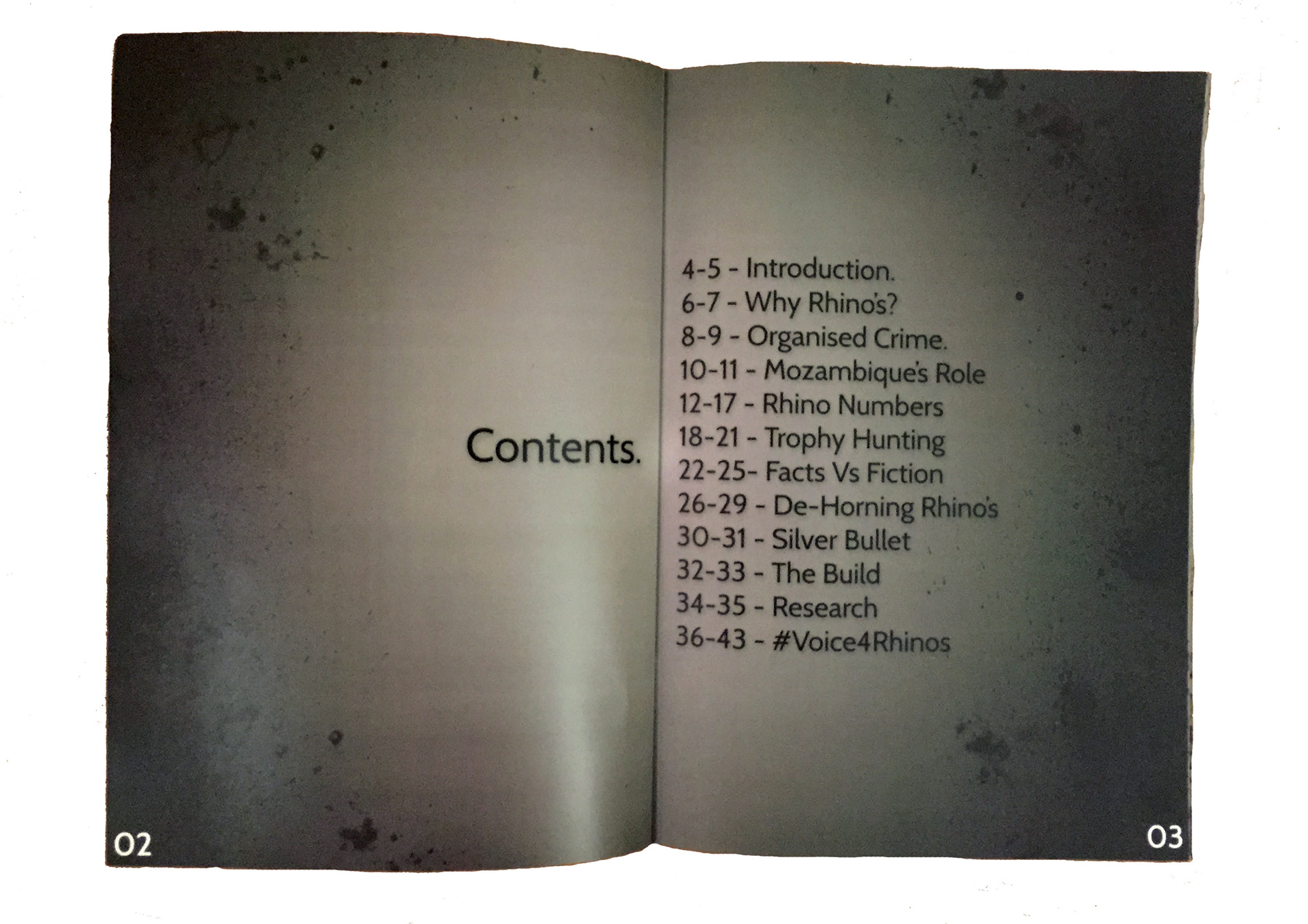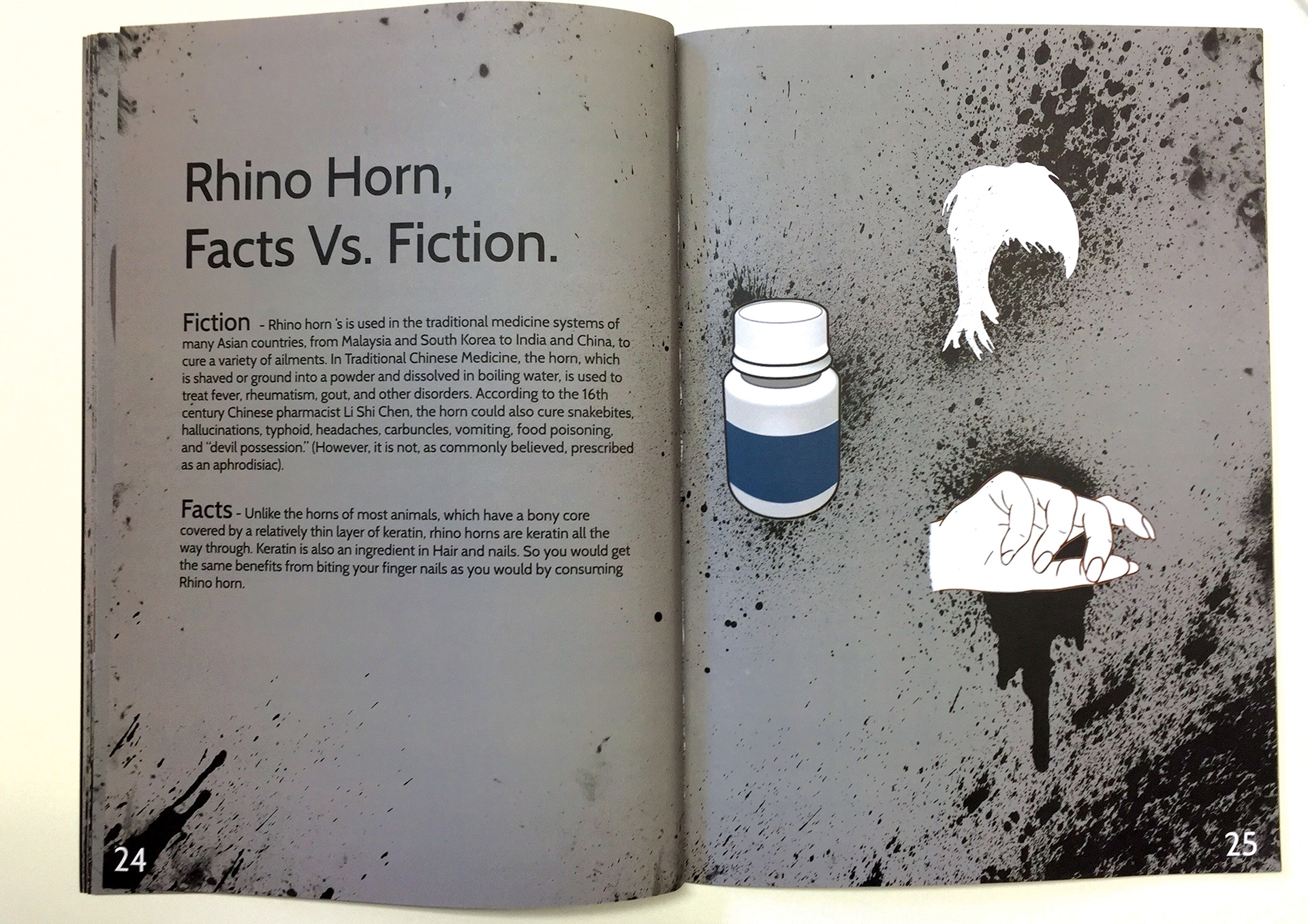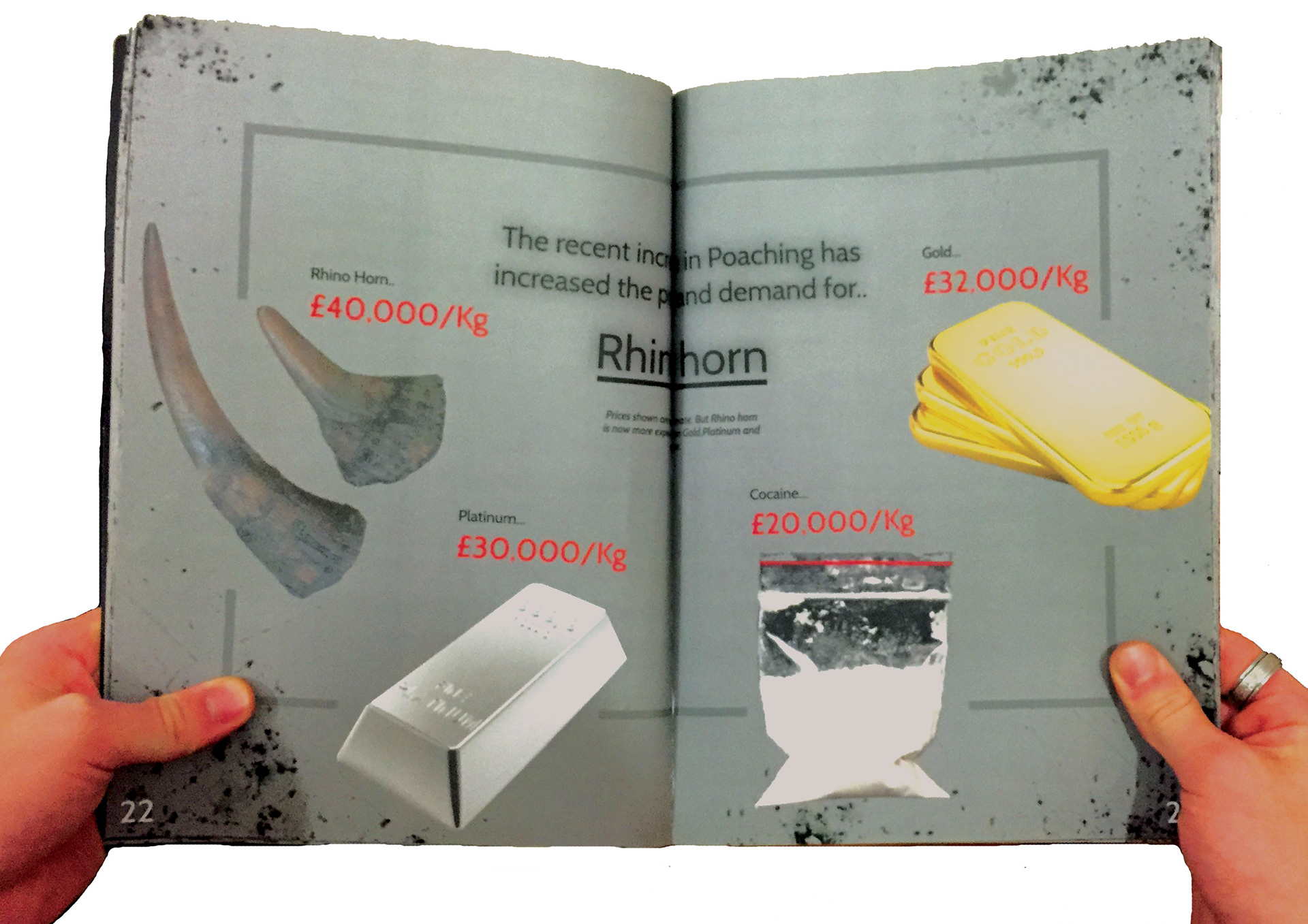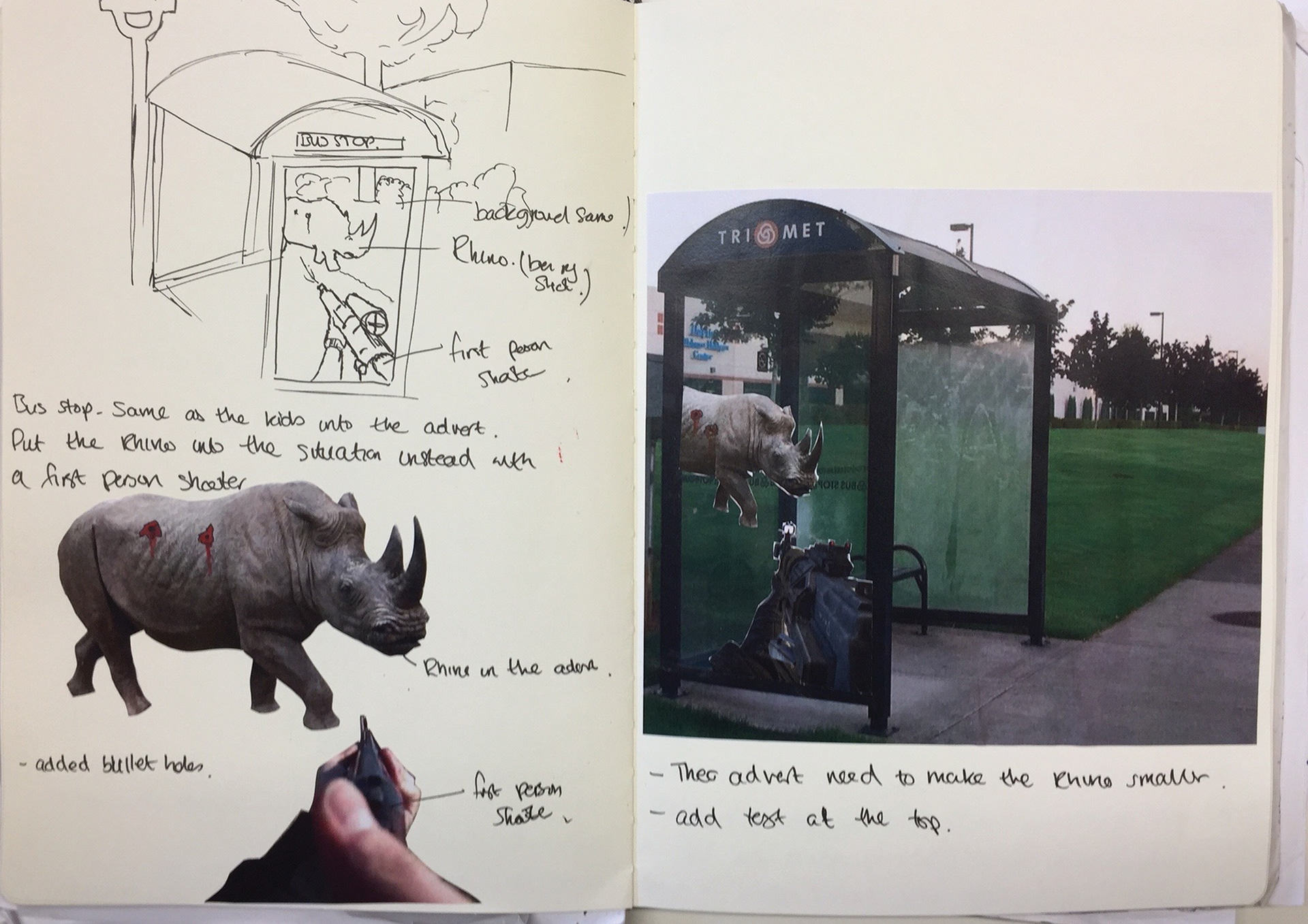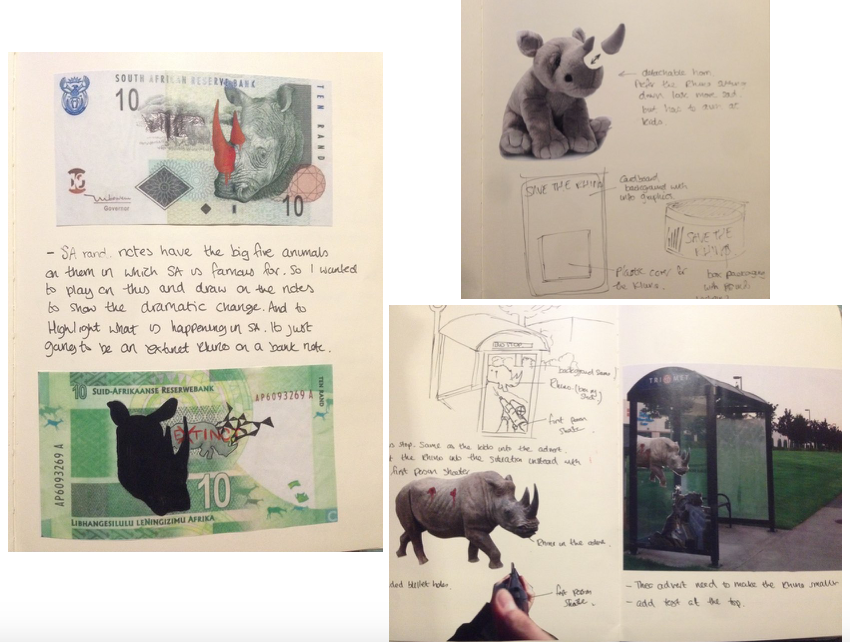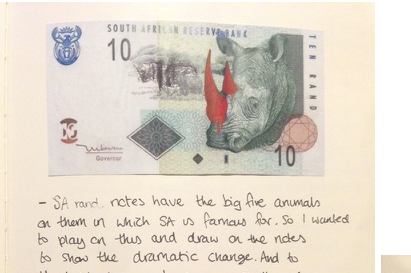 Feedback would be appreatated thanks. Also if you wanted to PDF version of the book please dont hesitate to ask.